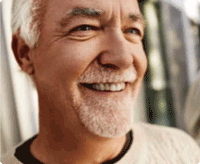 A smart approach to help you generate income from your investments
As you near or enter retirement, your investment focus shifts from accumulating wealth to generating income. You want your portfolio to sustain you through your retirement—possibly upwards of 30 years—with regular income, but you don't want to sacrifice the potential for growth. One solution is to include funds in your portfolio that incorporate both fixed-income funds that generate regular income and equity funds that pay dividends as well as provide growth potential.
That's why Schwab developed the Income Mutual Fund Select List™ — to help investors like you achieve an income-producing portfolio with growth potential.
Income-generating funds to help you navigate through retirement
Schwab's Income Select List was developed and is managed by the Charles Schwab Investment Advisory, Inc. (CSIA) experts and includes mutual funds that have met their rigorous criteria, including both quantitative and qualitative factors. All are no-load and no-transaction fee and are selected based on their ability to generate income in their respective asset classes. The list is designed to help you achieve income and growth.
VIEW THE FUNDS

How Funds are Selected
Close

How Funds are Selected
To build the Schwab Income Select List, the Charles Schwab Investment Advisory, Inc. (CSIA) starts by analyzing the actively managed funds tracked by Morningstar using quantitative and qualitative selection criteria described below. Then, based on its analysis, CSIA builds the Income Select List by selecting the most favorably evaluated OneSource funds, including Schwab Funds and Laudus Funds ("Schwab Affiliate Funds"), within each Morningstar category.
Eligibility Requirements
Each Income Select List fund must:
Be no-load and open to new investors at Schwab in all 50 states.
Have a minimum three-year performance track record (except funds that are listed below the "Leading Schwab Affiliate Funds" sections of the Income Select List are eligible if they have a minimum 12-month performance track record under their current management and/or current investment objectives and strategy).
Have at least $40 million in assets (except for small-cap value, high yield, multi-sector bond, world bond, emerging market equity and bond, diversified Pacific Asia, Pacific Asia ex-Japan, Europe, Japan, Latin America, convertibles, retirement income, target date, and specialty funds, which require at least $20 million in assets). To meet this requirement, assets in multiple share classes of the same fund may be aggregated.
Demonstrate a track record of making income distributions in each of the prior five calendar years (or during every full calendar year since inception in the case of funds with less than a five-year track record including Schwab Affiliate Funds which may have a 12-month track record).
For fixed-income funds: make income distributions on at least a quarterly basis; and—with the exception of the high-yield, multisector and emerging markets bond categories—not allocate in excess of 30% to issues rated below investment grade.
For equity funds: offer a current yield in excess of their category average; and for equity funds with "dividend" or "income" in their name, make income distributions on at least a quarterly basis.
With the exception of specialty sector (REITs) and fixed-income funds, not allocate in excess of 33% to any single sector.
Selection Criteria
Actively Managed OneSource Funds, including Schwab Affiliate Funds, are evaluated by CSIA based on risk, performance, expenses, style consistency and diversification, and, when meaningful, assets under management and asset flows. In addition, those funds with the best capital preservation attributes and investment strategies that focus on selecting income-generating securities will receive preference when selecting from similarly rated funds with comparable yield characteristics. For funds not affiliated with Schwab, CSIA also may consider additional qualitative factors (e.g., management strategy, portfolio composition and management tenure, consistency of fund performance and CSIA's evaluation of a fund over time) when making a final evaluation.
"Leading Schwab Affiliate Funds"sections of the Income Select List feature eligible actively managed Schwab Affiliate Funds that generally fall into the top 35 percent of all CSIA-evaluated funds (including OneSource and non-OneSource funds) in their respective Morningstar categories. If two or more Schwab Affiliate Funds fall within the top 35 percent of funds within a given Morningstar category also have similar investment styles, CSIA may determine that only the most favorably evaluated fund(s) be included in the list. Because Schwab Affiliate Funds included in the "Leading Schwab Affiliate Funds" section of the Income Select List are selected independently from other actively managed funds on the list, they may have received a less favorable evaluation overall than the funds listed in the "Leading 3rd Party Funds" sections of the list.
"Leading Third-Party Funds"sections of the Income Select List feature eligible actively managed third-party OneSource funds that generally fall within the top 35 percent of all CSIA-evaluated funds within a given Morningstar category and that receive the most favorable evaluations in their respective asset categories.
What to Consider
Close

Important Considerations when Building a Portfolio for Growth and Income
Schwab developed the Income Mutual Fund Select List to help investors in or approaching retirement build or modify an investment portfolio that addresses their growth income needs. Here are some things to consider as you develop or fine-tune your portfolio:
Asset Allocation:

As always, your portfolio's asset allocation should be driven by your investment goals, time horizon and risk tolerance. As your goals shift from accumulation to income, you can use the funds on this list to help address your income and growth needs from both bond and equity funds.

Diversification:

Investors in or nearing retirement often believe that they should be exclusively in bonds and other fixed-income assets. While for some investors this might be an appropriate strategy, you may want to consider keeping some percentage of your portfolio in equities for the capital appreciation potential they provide.

Risk vs. Return:

Evaluate yields within the context of risk: different categories or asset classes will reflect differing risk/reward trade-offs. Consider a mix of bond funds: government, municipal and corporate. Also, a fund's exposure to below-investment grade bonds is important to keep in mind. One of the selection criteria for fixed income funds on the Income Select List is relatively low exposure to these types of securities. (To see a fixed-income fund's credit rating, click on the fund name, then the Portfolio tab.)

Maturity:

Bond funds with longer maturities can leave investors exposed to greater inflation and credit risk, so consider a balance of maturities, from ultrashort to long.

Distribution Frequency:

Different funds provide payouts on different schedules. Check the frequency of distributions to determine when you'll receive income, if any, from the fund.

Taxes:

Remember tax implications. Income on investments in non-retirement accounts is generally taxable; in tax-protected retirement accounts, such as IRAs and 401(k)s, it's less of a concern. Where appropriate, consider tax-free bond funds.
Schwab provides a range of easy-to-use tools, resources and guidance at schwab.com for investors in or nearing retirement. Here are a few links clients might find helpful:
If you're not a client, you can obtain more information
here.